My husband gave me a "used" or "pre-owned" diamond for my engagement ring. When I tell people that my engagement ring is not "new", the typical response is usually utter shock, like my husband should be captured by the four horsemen of the apocalypse and taken to where he belongs. I want to address this topic because I have dealt with this for years. Most young ladies want their ring or diamond to be "new" so that it isn't cursed or something. First off, diamonds aren't really "new" unless you have a CZ or moissanite that is man made. Otherwise all diamonds come from about 90 miles under the earth's surface and are made from extreme heat, time, and pressure.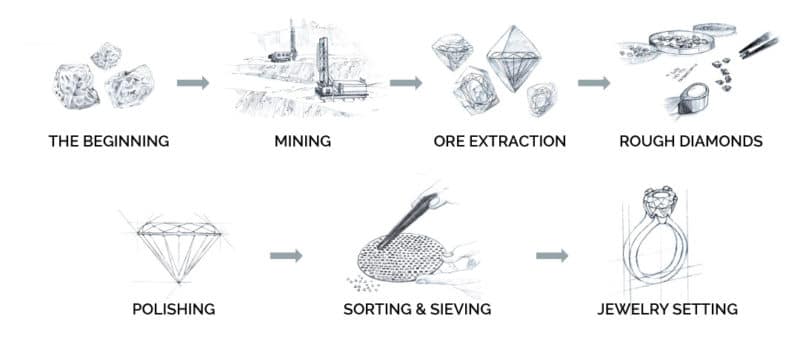 Because diamonds are the hardest mineral known to man, they aren't going anywhere and are the epitome of the perfect thing to upcycle, repurpose, reset, and reuse! It may catch you off guard to hear that most diamonds are "used" and have a history. This fact has never bothered me, actually I plan to write a book one day about the journeys and love stories of one diamond. I know what the main problem is though. Some people believe that if they get their engagement ring, wedding band, or anniversary gift from a store other than a retail store that there is some deep, dark, story associated with it and it is going to carry a hex that transfers over to them. I really am not that superstitious, even though my great-grandmother was Native American and had all kinds of superstitions that she adhered too. I guess I am more of an optimist. I have sold and traded jewelry that had nothing but happy memories attached. Just because a piece of jewelry is for sale in a second hand or estate jewelry shop does not mean it has a horrid past. Here is a story that I was a part of that may make you rethink "used" jewelry.
An older couple comes into our store and has been married for over 45 years. The sweet wife has had the same wedding set since their first year of marriage and that wedding set has been a part of raising babies, taking family vacations, Christmases, sport practices, graduations, etc. Those rings have been a part of the "American dream" love story.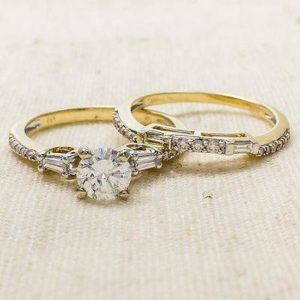 All those years of marriage there were many sacrifices made financially so that this lovely family could thrive. Now the time has come when the nest is empty and there is a little extra income to put a little extra sparkle on the finger of the lady who has given her all to her family for many decades. As the "old" set was traded in for a "new" one, you could tell that it was a celebration of where this couple had come from and where they were now. That loving couple walked out with a gorgeous "new" piece of jewelry and were off to continue their amazing love story. The "old" set was then cleaned, polished, and given a little check up (checking prongs, diamonds, etc) by our professional jeweler. When it was shined up like a new penny, it was put out for sale in our store. A few weeks later a nervous but excited young man walks in. He tells me that he only has so much he can spend on his future bride. They are just starting out, just finished school, just beginning new careers, and just starting their love story. He explains that one day he is going to give his bride the world and the biggest ring that he can buy, but right now he needs just a modest wedding set. One that he can afford but one that will be the apple of her eye. Instantly I knew the one! I pulled out the wedding set that had already been a part of an epic love story and handed it over to the young man for him to take a closer look. With eager hands and slightly embarrassed teary eyes, he said, "that's it!"
He went on to tell me that his future wife loved vintage things and that this little beauty would be the perfect ring to slip on her finger. I was ecstatic that this young man was going to "re-purpose" this "old" set and give it "new" life! Off he went with the small wrapped box bearing the ring that held his future!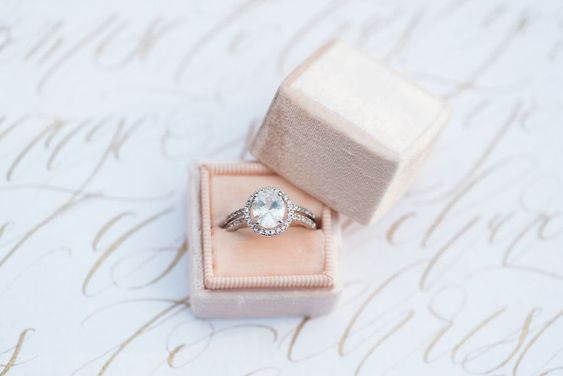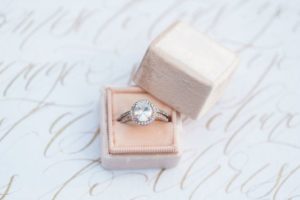 I just kind of paused for a few moments to reflect on the "passing of the torch". I hoped that the older couple knew that trading in their rings had given this young man's dreams a start. He was able to give his love a wedding set of quality that had stood the test of time and yet still eagerly awaited being a part of a new adventure.
I am a romantic at heart and working at a jewelry store that has these types of stories behind many of our pieces, just adds fuel to my passion for vintage (used) jewelry. I will forever view estate, antique, vintage, retro, Art Deco, Art Nouveau jewelry as a way of carrying on a legacy.